31 YEARS OF GIVING THANKS TO GOD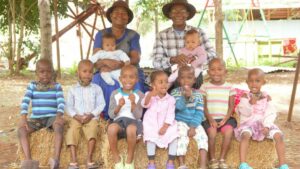 Last month Mully Children's Family celebrated 31 years of God's grace, favor, provision, love, mercy and miracles upon miracles. We have seen over 18,000 young individuals being transformed from a life of desperateness to being responsible citizens of the world. Currently, we have over 4,000 children who are under our care, protection and nurturing, in nine different MCF campuses.
We have tested the goodness of the Lord in the land of the living. We can testify that the God who was with the patriarchs of old, the prophets, and the apostles, He is here with us in MCF. We have tested and seen that the Lord is good.
Please join us in raising praise to our God for sustaining both the MCF vision and the vision bearers Daddy and Mummy Mulli. We pray that many years down the line, history will be kind to them that they did their assignment with diligence, faith, hope and love. Let us thank God for all the lives that have been transformed through this noble ministry. Our prayer is that this vision will outlive each one of us should our Lord Jesus tarry to come.
15 Therefore by Him let us continually offer the sacrifice of praise to God, that is, the fruit of our lips, [a]giving thanks to His name. 16 But do not forget to do good and to share, for with such sacrifices God is well pleased.