A Special Christmas Message from Dr. Charles Mulli
A Remarkable Gift to Mankind
A few weeks ago, I walked into a remote rural village that I had not been to before. I was deeply troubled to see the sunken eyes and desperation of the people. Children half naked due to lack of clothing, mothers carrying babies on their backs while the men sat huddled together in whispers. A young girl stood leaning on the wall. She reminded me of Mary, a twelve-year-old girl whom we rescued earlier this year, heavy with child due to defilement.
The levels of poverty in that small village were staggering. This is in spite of working most of my life in the most marginalized parts of Africa. These encounters always bring raw emotions, seeing people in despair without the most basic of needs, food and water.
I had no money on me at the time and there were no shops nearby that we could try to work with for a quick way of feeding the numbers that kept on growing as Esther and I interacted with the villagers.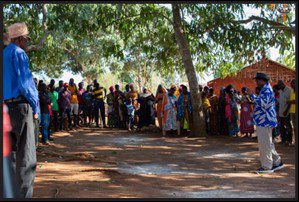 It reminded me of a time, more than 2000 years ago, when Jesus went along with his disciples across the Sea of Galilee to a quiet desert region near Bethsaida. When people knew where he was going, thousands poured out of towns and cities to meet him there. When Jesus saw how greatly they needed him, he was moved, and walked among the crowd, talking, answering questions and healing those who were ill. By evening, the crowds were hungry, yet there was no food for them. Jesus took five loaves of barley bread and two small fish that a boy in the crowd had with him. Jesus told everyone to sit down on the grass, then he took the bread and the two fish and blessed them. He told his disciples to give food to every man, woman and child present. The disciples were astonished to find that not only was there plenty for all, but that afterward, twelve baskets were filled with the food that remained.
If there is one thing I have been reminded of constantly in the last year, it is the fact that so many people are hungry and hurting. Children, women and men. They are crying. Tears that clearly are a depiction of what is inside of their hearts and souls. When people cry, they share that which over whelms their hearts and spirits.
There are a lot of tears flowing among my country men in Kenya today. Tears of desperation, tears of loss of family members, loss of livestock, loss of hope in life, due to a ravaging ongoing drought and famine. The levels of desperation from the ongoing most severe drought that our country has faced in the last 40 years, is something that has affected us deeply. Five million people are in the red zone. Human lives have been lost due to hunger and lack of drinking water.
Livestock and wildlife in our parks are dying in their dozens. But then whom can the people go to for help? Where can they get water from for the children, elderly or pregnant girls and women?
My heart is torn, yet deep inside I am reminded of the greatest story of all time. A remarkable story of hope. Hope for me and you. Hope to those who are suffering and even those in the verge of death due to hunger, disease, malnutrition and other causes.
I am reminded of the greatest story of all time! This story began in a remarkably way. A story of a little baby boy born in an animal shed with cows, sheep, probably goats, chicken and other livestock, mowing in bewilderment at what was taking place. Such a lowly place for the birth of a child. A lowly place for the birth of a king and savior of the world. This is the story of Christmas.
Christmas brings families together, it brings back the joy and laughter of loved ones as they exchange gifts and presents and share valuable time together. You cannot forget that there always seem to be so much expectancy from the young to the old. Indeed Christmas is a special time when we remind ourselves of the remarkable gift that came to each and every one of us, in the form of a baby boy, a king, born in a manger!
As we celebrate this year's Christmas, please join us in reaching out to 21,000 families within Ndalani, Yatta, Lodwar and Vipingo, to bring hope through prayer and ministry as well as through a special Christmas relief food package that will consist of 5kgs dry maize, 3kgs dry beans, 3kgs maize flour, 500gms cooking fat, 50gms salt and an assortment of vegetables from our farm. Our estimate is that each family is made up of at least five family members. This special package will provide much needed relief to the most needy families that we have identified within the surrounding communities.
My prayer is that God will use me and my family to be a vessel of hope, to bring a revival and a new lease of life to parents who have given up the hope of seeing their children grow to maturity due to lack of food. I pray that God will enable us deliver a remarkable Christmas gift as we follow in the footsteps of Jesus Christ who became a special and remarkable gift to humanity and gave us a ray of hope when we had none.
May the special love of Christ shine upon you and your loved ones during this special season. May you experience, peace, joy and love. May this Christmas, be different in a very special way!
"For to us a child is born, to us a son is given, and the government will be on his shoulders. And he will be called Wonderful Counselor, Mighty God, Everlasting Father, Prince of Peace."
Wishing you a truly blessed Christmas and New Year 2023!
Yours Sincerely,
Charles & Esther Mulli