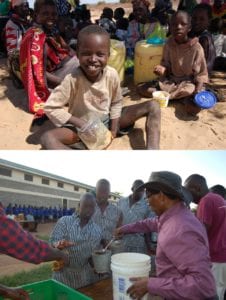 During the month of December, it has been an MCF tradition for many years to share food, gifts, and prepare special Christmas meals to serve those around us including those in need in the communities, the children who have been incarcerated, street children, prisoners, the police in our regions.
As we share what we have, we bring  to them the  good news  of the  love  of Christ. Please join us in prayer as we embark on this special MCF Christmas out-reach. Pray many will be touched by the love of Christ as we share the wonderful gospel of Jesus Christ.
1 Corinthians 13:1-3 (TLB)
If I had the gift of being able to speak in other languages without learning them and could speak in every language there is in all of heaven and earth, but didn't  love others, I would only be making noise. 2 If I had the gift of prophecy and  knew  all about what is going to happen in the future, knew everything about everything, but didn't love others, what good would it do? Even if I had the gift of faith  so  that  I could speak to a mountain and make it move, I would still be worth nothing at all without love. 3 If I gave everything I have to poor people, and  if I were burned  alive for preaching the Gospel but didn't love others, it would be of no value whatever.