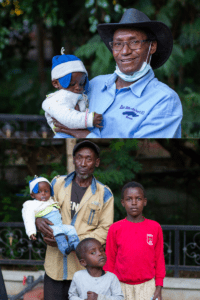 Mwende is 8 years old, her bother Mwendwa is 4 years, while her younger brother Munyao is 5 months old. Their mother's name is Mbatha, and she is insane. Mbatha had offered to sell her three children at a throwaway price in the streets where she lives. Mbatha is a young woman whose age is not well known but she is estimated to be less than 23 years old.
When Mbatha was very young, she got ill and due to poverty, her parents were not able to take her to hospital for treatment. She ended up being insane and went to live in the streets; however, she periodically would show up at home especially when she was pregnant. Mbatha gave birth to 3 children but never had any attachment to them or had the capacity to nurse them. After giving birth she would soon return to the streets. The children's poor grandparents were left with the responsibility of raising the children. Whenever Mbatha came back home she would beat her children threatening to kill them. When the grandparents intervened, Mbatha would turn violent towards them. The best they could do is chase her away to protect the children. Then Mbatha's Mum died, leaving the 3 children under the care of their grandfather.
The abuse and mistreatment of the children became too much and the old grandfather was not able to take care of the baby boy who is currently 5 months. The case was reported to the Children Officer as Mbatha (who is mentally unstable) wanted to sell her children to any willing buyer. The Children Officer took the three children to children's court, thus committing them to Mully Children's Family, for rescue, care and protection.
We thank God for the timely rescue of the three children, and many other children who have been rescued by MCF in similar circumstances. Our prayer is that they will grow in this safe and loving environment, to become whom God created them to be.
"Before I formed you in the womb I knew you; Before you were born I sanctified you; I ordained you a prophet to the nations."