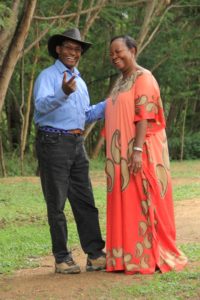 Many people often ask why MCF is not called an orphanage. Why is it not called a home? If you have ever interacted with Daddy Mulli and you asked him these questions, he will gracefully smile at you and answer, "MCF is more than an orphanage, it is much more than a home… it is a family, the largest family in the world."
This Family began almost 30 years ago, with 8 biological children and 3 "adopted" children from the streets. The MCF Family currently cares for more than 3,500 children, in our 6 locations. We have  had  more  than 15,000 beneficiaries graduate and return to the communities to live  a dignified and productive life.
When you spend time with Daddy Mulli, he will always say we have come a long way, yet the journey ahead for MCF is much further than where we began.
Let's pray for Daddy Mulli and Mummy Esther that God will renew their youth like the eagles; that their eyes will not go dim but will be continually flooded with light of God's knowledge and wisdom; that they will walk in divine health and that God will satisfy them with long happy lives.
3 John 2 (AMP)
2 Beloved, I pray that in every way you may succeed and prosper and be in good health [physically], just as [I know] your soul prospers [spiritually]
Ephesians 1:17-18 AMP)
[I always pray] that the God of our Lord Jesus Christ, the Father of glory, may grant you a spirit of wisdom and of revelation [that gives you a deep and personal and intimate insight] into the true knowledge of Him [for we know the Father through the Son]. 18 And [I pray] that the eyes of your heart [the very center and core of your being] may be enlightened [flooded with light by the Holy Spirit], so that you will know and cherish the [a]hope [the divine guarantee, the confident expectation] to which He has called you, the riches of His glorious inheritance in the [b]saints (God's people),